I remember well the day in May of 2012 when I visited a local quilt show with a friend.  She was an avid quilter and I went along because it sounded like a fun diversion from my work day.  We strolled up and down the aisles admiring the quilts and, toward the end, we came upon a sewing machine vendor who showed me a machine "perfect for the beginner."  I was intrigued… and then suddenly, I was the nervous owner of a new sewing machine.
Once the thrill of the purchase subsided a little, I remembered my tendency to get super enthusiastic about something only to lose interest in it a short time later.  This was a hefty purchase and a big commitment!  I was overwhelmed, to say the least.  The list of supplies I would need to kick off my new hobby seemed a mile long and many dollars wide.  After several chats with my friend and lots of time spent jumping around on the internet searching for ideas, I visited my local craft store and purchased what I believed to be the essentials.  Or, that is, my first batch of essentials.  I quickly went from never stepping foot in this craft store to being a regular customer.
One of my first treasures was a small pack of fabric charm squares – 5″ squares of coordinating prints.  I practically raced to my machine so I could finally SEW something!  I arranged and rearranged nine squares and slowly sewed them together.  Then, I pressed the edge under and hemmed it with a decorative stitch.  It seems unremarkable now, but I was SO proud of that little whatever it was!!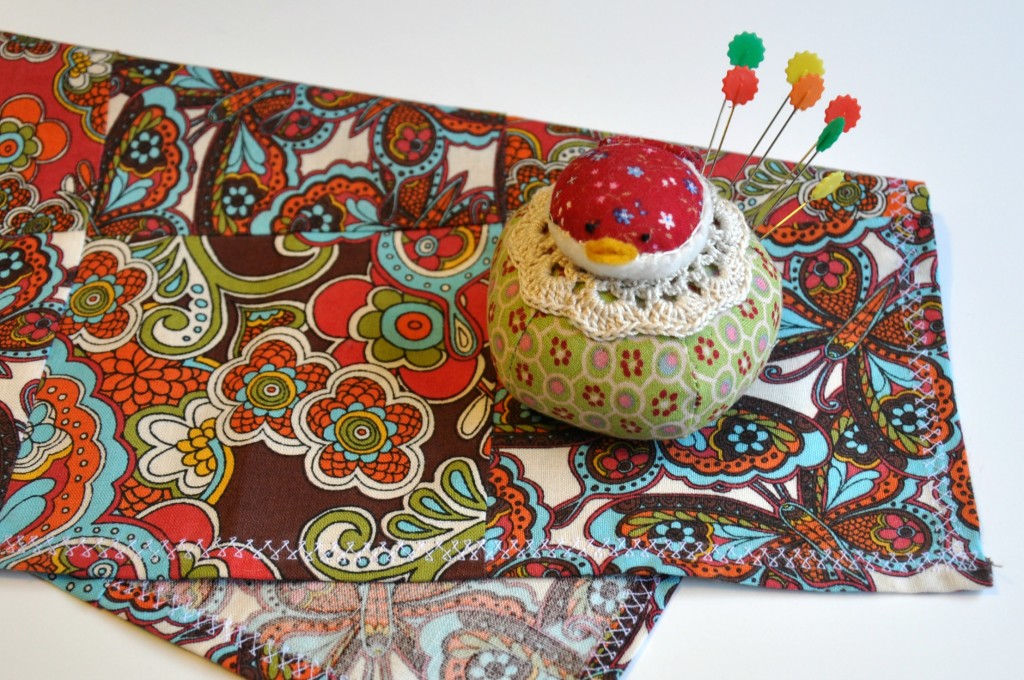 My first project actually had a huge impact on my life.  I was hooked.  I loved the feeling of creating something!  I remember I had a book club meeting that night and I showed my quilty friend what I had made and I delighted in her compliments.  I didn't grasp it at the time, but my life was truly changed by this little 9-patch.  Too melodramatic?  Yes.  A little.  But, it's the darn truth.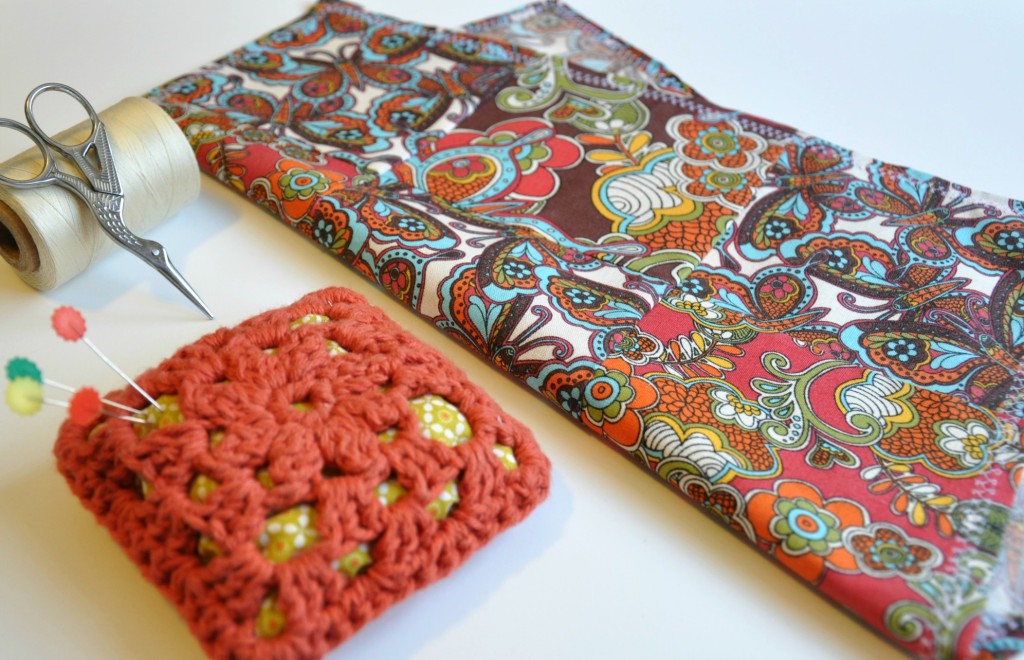 A few years have passed now (and my taste in fabric has changed dramatically), but I still feel that same amazing thrill every time I finish a new project.  I've had so many fun "I made that!" moments.  However, I've also been discouraged and frustrated MANY times along the way, especially in the beginning.  Luckily, though, I didn't give up.
I suppose this is the message I'd like to share with brand new sewing beginners.  You WILL get discouraged and it WILL be frustrating at times.  You may feel like you spend more time with your seam ripper than you do with your sewing machine.  Persevere, though, and you may end up finding tremendous value (and humor!) in your trials and tribulations.  Like everything else in life, you'll learn from your mistakes and you will grow as a maker.
I remember a bag I made once that turned out so incredibly awful that I threw it away.  I was FUMING MAD and resentful about the time I wasted.  But, the next day, it suddenly dawned on me that I could salvage the quilted panels from this little zipper pouch and turn it into a slightly smaller pouch using a different pattern.  And you know what?  It's one of my favorite bags to this day.  Every time I look at it, I think about how it was rescued in just the nick of time.  Life lesson: Sometimes it pays to dig in the trash.